Attention: Any items left in the lost and found will be donated over the holidays. Come by and claim items your child may have lost!

Mrs. Conner's Third grade took a trip to Walmart to shop for their class Angel!

Mrs. Mosely's class did a great job of preforming the Charlie Brown Christmas play!

6th grade had a great time and learning experience at the Oklahoma Aquarium yesterday!

First grade's Christmas Program was fabulous last night!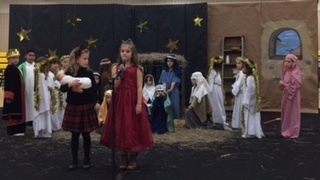 The Reveille Rotary of Claremore donated dictionaries for each third grade student at Justus-Tiawah Elementary on Thursday. The students were excited to receive them and couldn't wait to go back to their classrooms and begin searching for new information. The dictionaries were presented by Ron Burrows, Bill Hooker, and Roger Fleming.

Winter Band Concert a great success!

Come to Future Focus and see how lives are radically changed by amazing artificial limbs! It's the last meeting of the semester this Wednesday! Hope you can make it - 7:10 in the board room for food and fun! Parents: We are seeing a lot of sick kids in the elementary. Please use the following guidelines on keeping kids home from school. -24 hours fever free (no meds) -24 hours vomit/diarrhea free Cough and sore throat should be monitored closely

The Grinch showed up in the library today for Kindergarten-3rd grade specials. We have some very talented students!

Hope you can join us at Future Focus this week: Living History! Intriguing stories and up-close examination of historical artifacts! Start the day with a tasty bite at 7:10 in the Board Room and explore new horizons!

The Future Focus guest speaker this week trains horses! We'll start the day with donuts at 7:10 in the Board Room - Join us!



Skins! Skulls! Skunks? Wednesday's Future Focus features a hands-on experience with Wildlife Conservation! See you at 7:10 AM in the Board Room!

Square 1 Art orders are due Wednesday, November 14th. Online and phone orders have been extended through November 26th!

PTO Meeting tonight at 6 PM North Campus Library

This week's guest at Future Focus is Sheriff Scott Walton! Join us Wednesday, Nov. 7th at 7:10 in the Board Room! Square 1 art orders due November 13th.

This week's Future Focus speaker is an entrepreneur who serves people by making artificial limbs. Jr High students, join us at 7:10, Wednesday, Oct. 31 in the Board Room for breakfast snacks and another interesting career exploration!