February PTO meeting will be held next Tuesday, February 7th at 6pm, at the North Campus Cafeteria. Any questions please email
pto@justustiawah.com
. See you then!

JT Family: After waiting as long as possible yet giving families notice, the conditions at the north campus along with still several of our bus route roads are still not in the condition to feel safe to have school. We will see you on Friday.

Wildcat family, we are still waiting to make a decision on school tomorrow. Currently the blacktop at the north campus and the south campus parking lot are solid sheets of ice. Our hope is that mother nature will do her thing this afternoon and melt these areas. We will let you know as soon as possible regarding school tomorrow. The safety of our students and staff are our number one priority. Thank you for your continued support.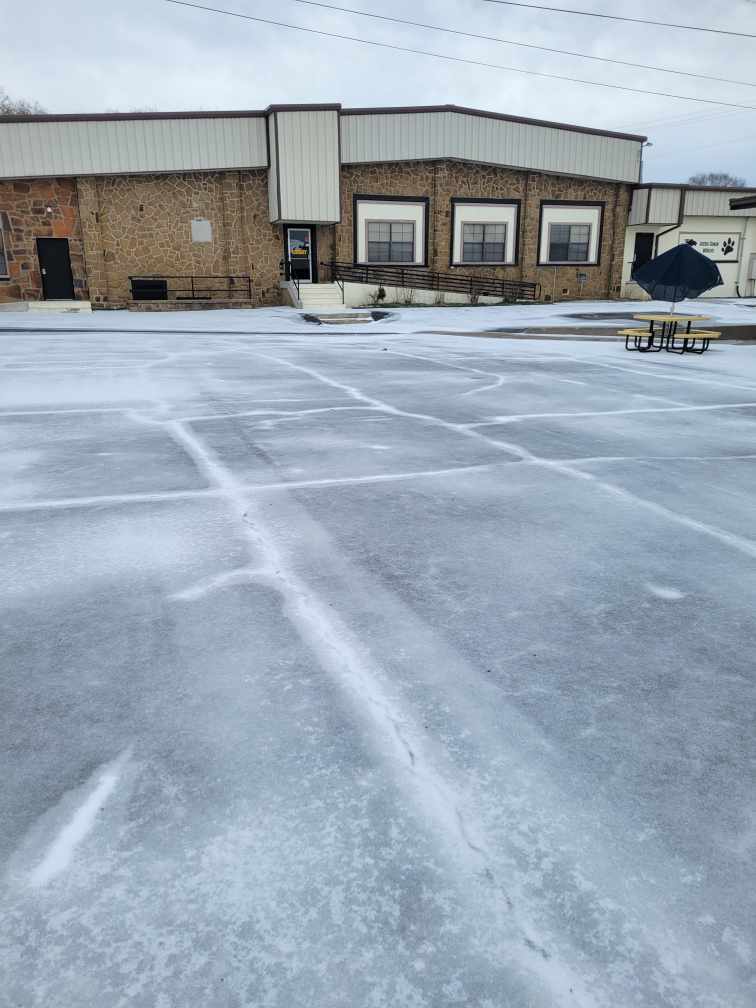 Today is World Read Aloud Day! As a librarian, my most favorite thing to do is read aloud to students! And I get to do that everyday! Here is a schedule of events on storyvoice.live that you can participate with your kids if you'd like! I've also included some facts on why reading aloud is so important! Stay warm today! Be sure to read and enjoy a good book!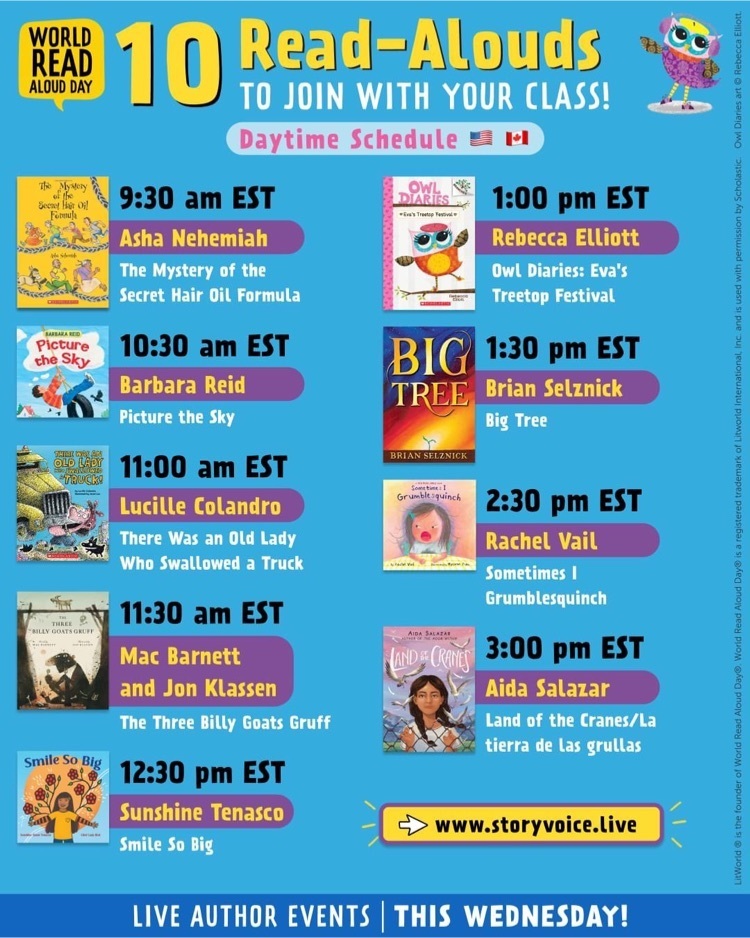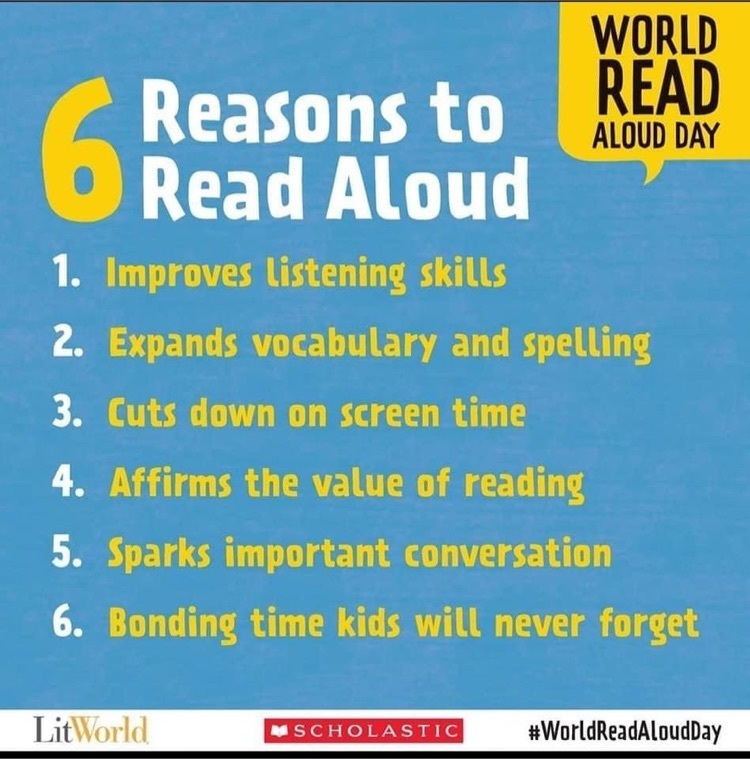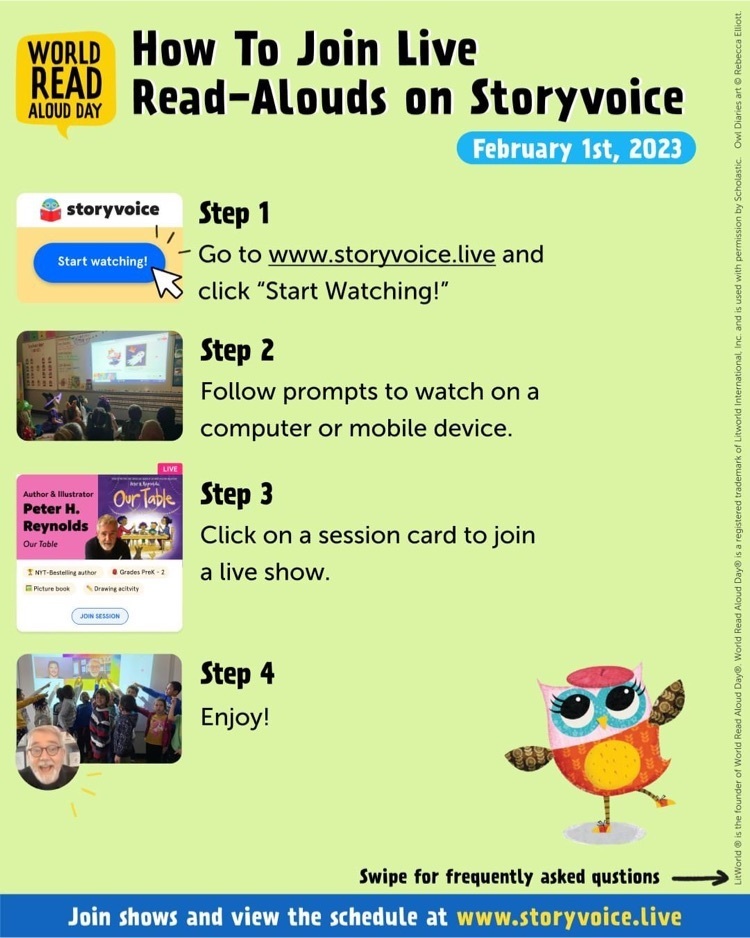 JT Family: Although the main roads seem to be improving, there are still a large number of roads throughout our district covered with ice. Our campuses are still iced packed (north campus in particular). Therefore, we will be closed again tomorrow for a snow day.

JT Family: Due to the current camus and road conditions with no change by tomorrow, w will take another snow day tomorrow, Tuesday, 1/31. Stay safe and warm.

JT Family: Out of an abundance of caution, school will be closed today for a snow day.

Parents: Apparently we are having some troubles with our phone this afternoon. If at first you do not succeed, try again. If that doesn't work, you may dojo to get word to the elementary, email Mrs. Peterson south (
cpeterson@justustiawah.com
), or email Mrs. Reece at Jr. High (
areece@justustiawah.com
). Apologies for the inconvenience. Have a great weekend!

JT 6/7 Academic Team won OJABA District this evening in Foyil!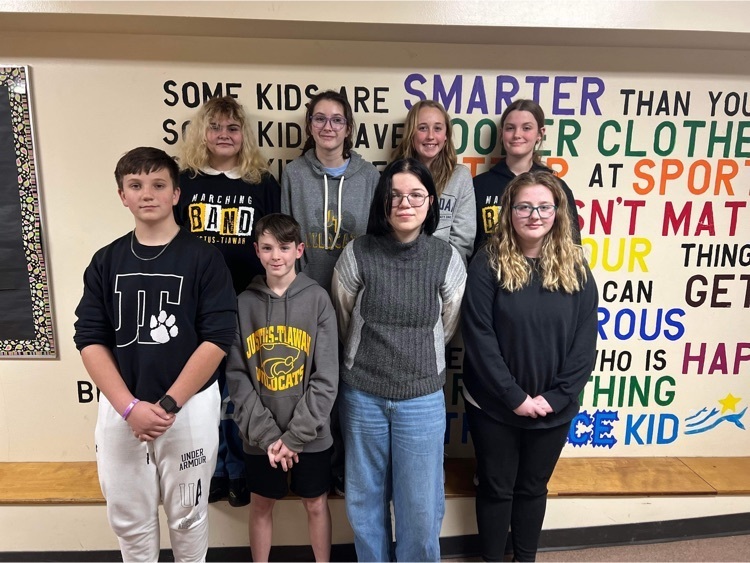 Order your yearbook now! Last chance to order a personalized yearbook is January 27th! Buy yours at yearbookforever.com before it's too late!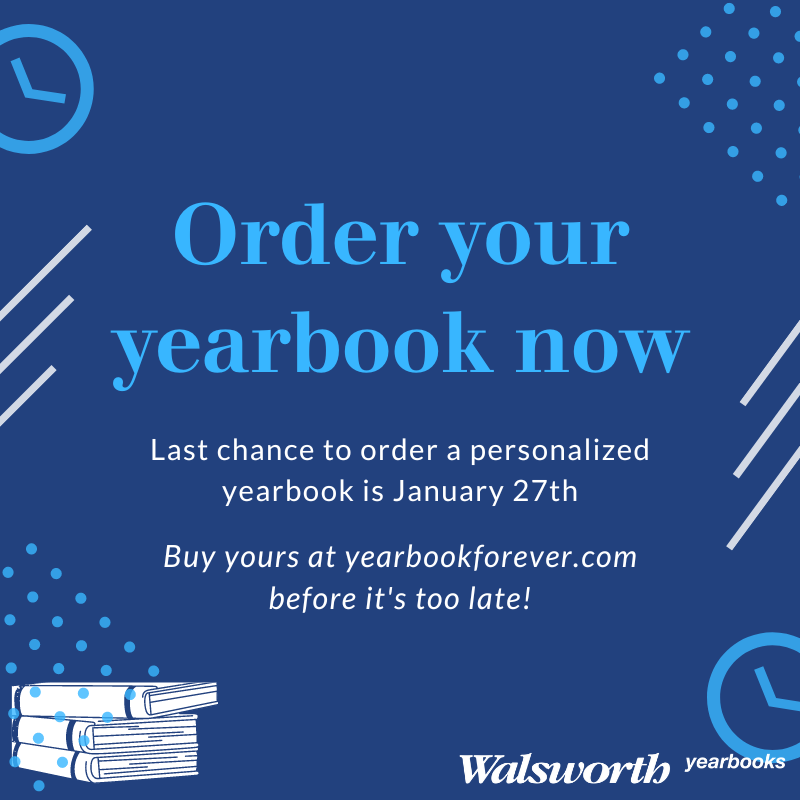 ALL TUTORING is CANCELED for today

JT Family: There are a couple of cancellations for this evening. Good News Club and our basketball game this evening against Pretty Water has been cancelled.

JT Family: Thank you to everyone who made our Charlie vs. Cancer Night a success! It was a fun evening. Huge thanks for Stephanie Boatman for leading the charge! Thank you also to the following for all the donations: Claremore ROTC - present colors Claremore RibCrib - bbq cater for 10 Billy Simms BBQ -desserts Justus-Tiawah PTO - concessions Justus-Tiawah Staff and School Board - volunteers and support Jessica Wilbourn - burgers and dogs Subway - Kenny Hewitt for veggies Gigi Westfall - cookies Ladd family Justus-Tiawah Family!!

Charlie vs. Cancer "Purple Out" is TOMORROW!Wear your shirts, deck yourselves out in purple, and come support one of our own! Starting at 5:00 p.m.- Burger and hot dog baskets for $7 along with other concessions available. 6:30ish - Bucket Toss Contest for a chance at a $200 prize! $1 per toss Silent auction items for bid (cornhole set, handmade quilt, hand-painted antique windows, and more!) Bidding closes at 7:30 p.m. T-shirts and vinyl decals Claremore ROTC presents colors at 5:00 p.m. Tipoff to follow! Great entertainment as we watch our JT basketball teams take in the Chelsea Dragons!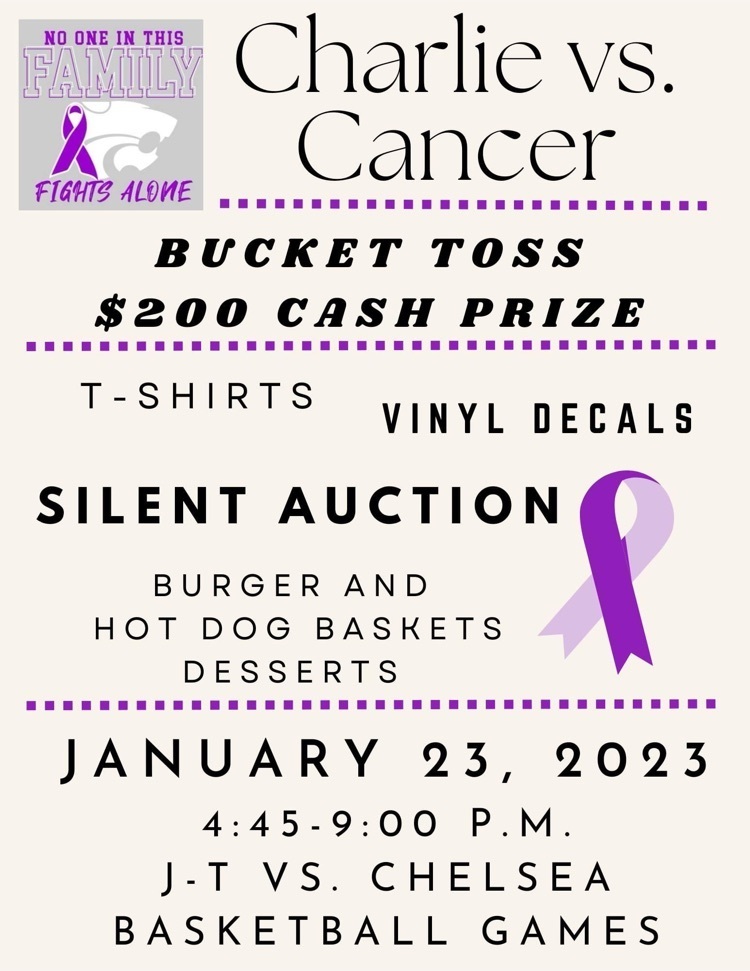 Come on out and support one of our Wildcats! Mr. Charlie is one of our maintenance guys and he is fighting the biggest battle of his life. Spread the word and come have a fun family evening watching some basketball, enjoying a full dinner, and try your hand for a chance to win $200! Once a Wildcat, Always a Wildcat!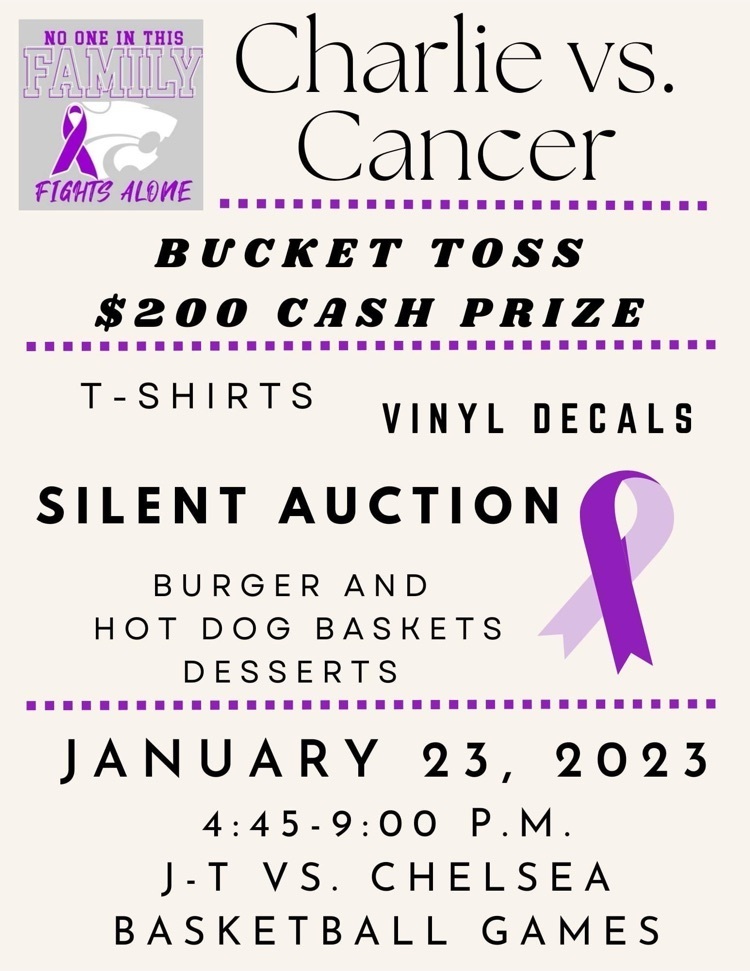 JT Family: There was a mix-up on the quantity of youth large Charlie vs. Cancer shirts, so we are picking up the rest up this afternoon and will distribute them on Monday. Apologies for the delay. Have a great weekend!

Three Justus-Tiawah students, Franklin Hawkins, Makaela Barrow, and Hannah Joslin, auditioned and made placement into the Mid-East Oklahoma Band Director's Association honor band on Monday, January 16th. The clinic and final concert will be held February 6th and 7th at Oologah High School.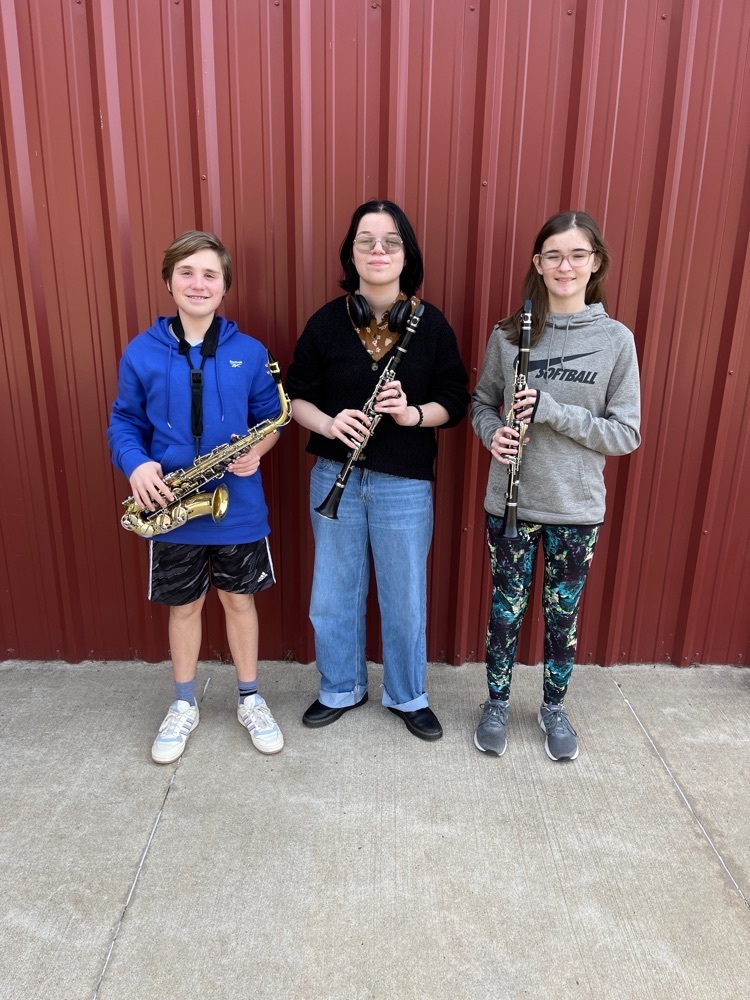 JT 7/8 Academic Team played Chelsea, Choteau-Maize, and Oktaha and won OJABA 7/8 Districts!! 😸🥇 Go Wildcats!

There will be no ELEMENTARY TUTORING today. We are sorry for any inconvenience. Your child will follow their normal after school routine unless the office is notified with other instructions.

Tutoring will be cancelled at the SOUTH CAMPUS on THURSDAY, January 19th. Sorry for any inconvenience.