Next week is Teacher Appreciation week May2-6. JT PTO is asking for sponsors or donations for a day/week for our teachers. If anyone would like to help pickup/deliver food, decorate our teachers lounges at each campuses (3) daily, or add anything to already planned days please feel free to reach out to JT PTO. Theme: Passport (Traveling to different countries each day). Monday-America-School of Pop Tuesday-England-Scones and coffee Wednesday-Ireland-JFarleys Thursday-Mexico(Cinco de Mayo)-El MaGuay Friday-Italy-Desserts Feel free to reach out to JT officer or Pam Chandler 918-232-6581

Girls Basketball Camp May 23-26 Cost $60 a camper. For Girls entering 1st-8th Grades. Please Register by April 29th to be guaranteed a basketball and tshirt. Contact Coach Hardin for more information
jhardin@justustiawah.com
Link To Registration Form: Girls Basketball Camp May 23-26 Cost $60 a camper. For Girls entering 1st-8th Grades. Please Register by April 29th to be guaranteed a basketball and tshirt. Contact Coach Hardin for more information
jhardin@justustiawah.com
Link To Registration Form:
https://5il.co/19juq

7th/8th Students and Families: The students are headed to the Gather in Place on Friday. Please remember to have them bring a completely disposable lunch and have them dress accordingly.

We still have spots available for spring pictures. Call and get yours reserved before they are gone.

Claremore High School will have a player and parent meeting for all incoming 7th-12th grade football players on May 2nd at 6:00 PM in the new gym. They will discuss physicals, their summer pride calendar, and practice packs.

JH Parents: JH State Testing season has arrived. 7th grade English is tomorrow, 8th grade writing on Wednesday, and 8th grade English on Thursday. Please make sure your child brings a charged Chromebook to school along with the charger cord. Wishing them all the best!

Justus-Tiawah Family Skate Night Thursday, April 28th 6pm-8pm $5 per person at the door, whether you skate or not This will include skate rental. $20 for families of 4 or more (Discount only applies for members of the same family) Concessions provided by the 8th grade class. All procees from sales go to the graduating class. Thank you for your support!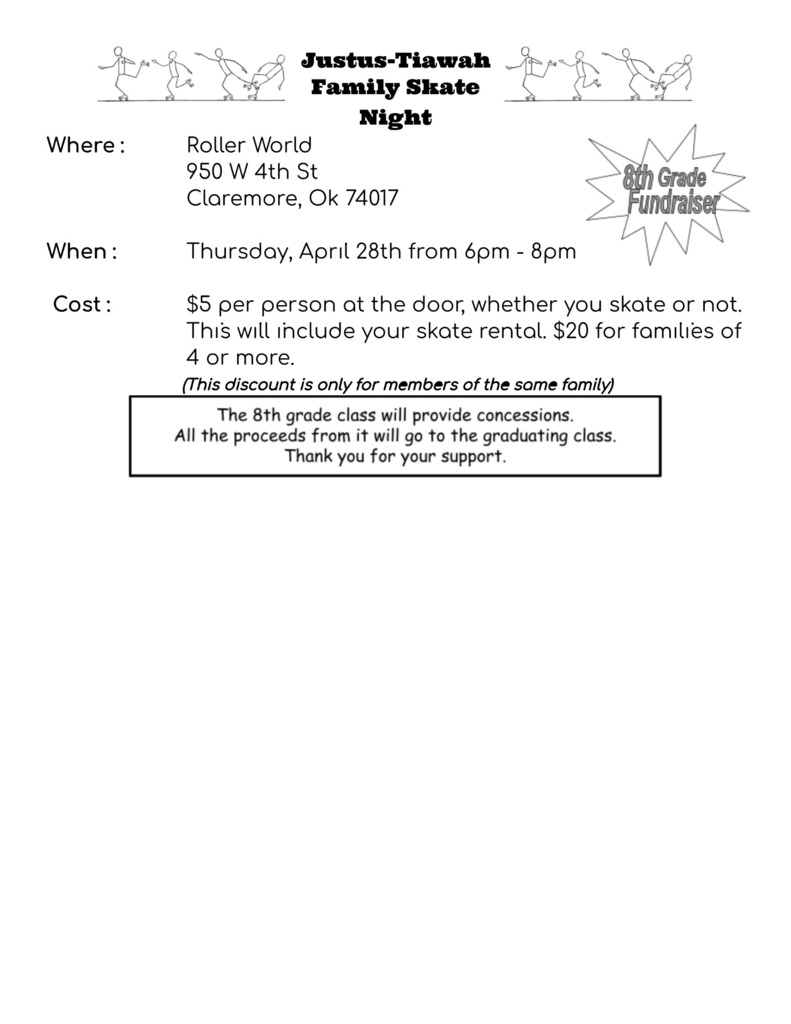 JT Boys Basketball Camp for Grades K-8th June 6-8th Pre-Registration Fee $60 Day of Camp Registration: $65 Contact Coach Fraley for more information
mfraley@justustiawah.com
Link To Registration Form:
https://5il.co/18zya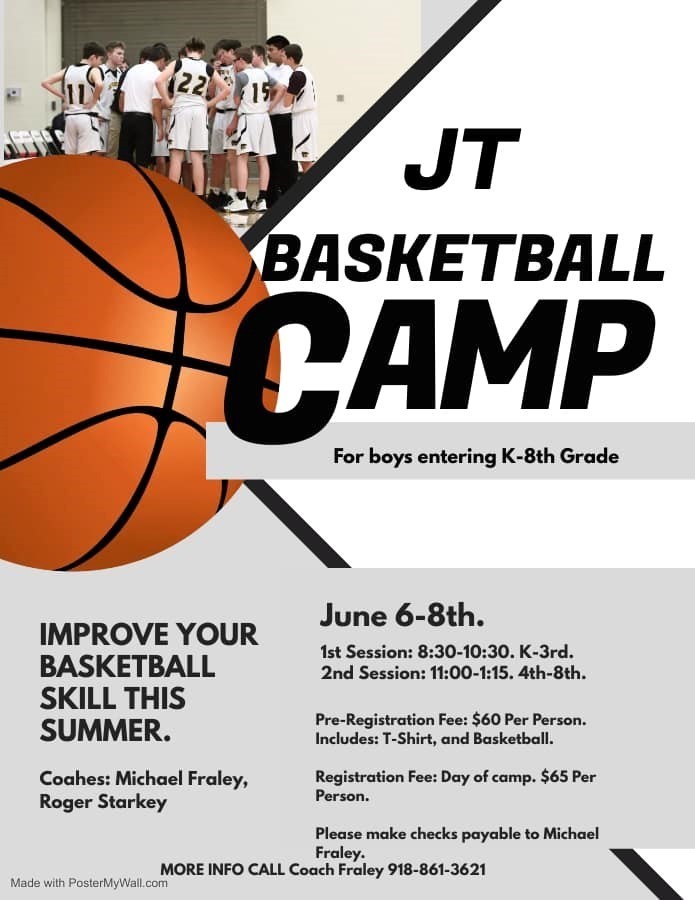 The Justus-Tiawah 8th Grade are hosting a Graduation Fundraiser. Kasey Fraley Photography is hosting a Spring Mini Photo Shoot. Dates and Times are limited, Book Now! For more information see the flyer below.

Girls Basketball Camp May 23-26 Cost $60 a camper For Girls entering 1st-8th Grades Please Register by April 29th Contact Coach Hardin for more information
jhardin@justustiawah.com
Link To Registration Form:
https://5il.co/18jmf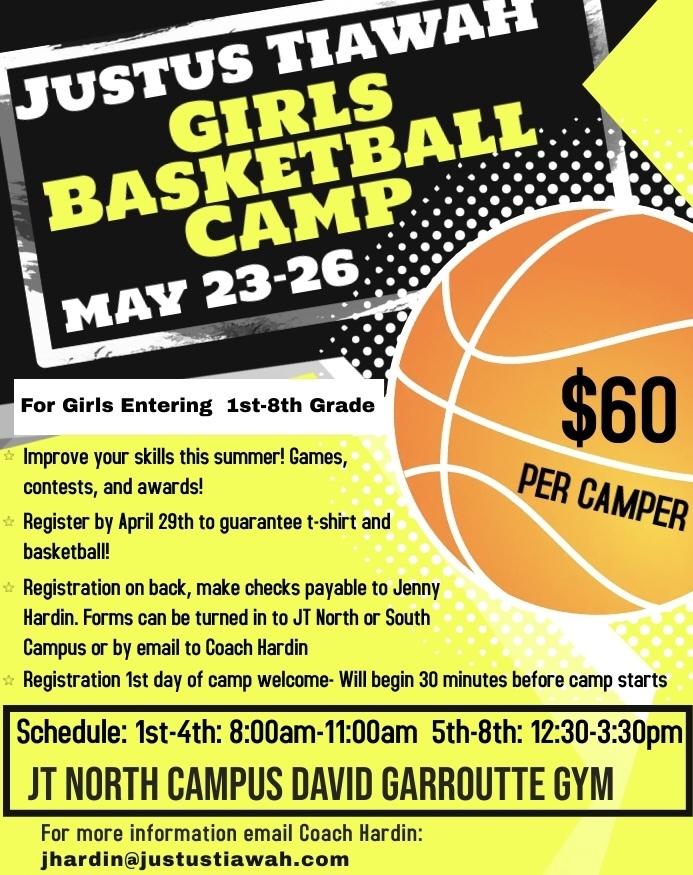 Reminder note from Claremore High School: Please complete online enrollment of your student at Claremore High School before tomorrow morning. We will be unable to enter course requests for the student if they are not in our system. If, for some reason, you are not able to get the online enrollment before Thursday morning, we will have a couple people to assist with that at the high school. If you are needing assistance Thursday morning with enrollment, please be sure to bring the required documentation with you - copy of birth certificate, immunization record, parent/guardian driver's license, and 2 proofs of residency (current utility bill, lease agreement, mortgage statement, etc). We look forward to seeing you all tomorrow!

Hello everyone.. There is a PTO(Election) meeting tomorrow at 6:00pm. PTO is  electing new officers. Please consider becoming an officer. The active officers have done this for years abs would like others to step up and participate in our JT PTO. Existing officers will definitely help out. New ideas and people keep it fresh. If anyone would like information about the PTO, a set of bylaws can be emailed to you. Email Pam Chandler
pchandler10@hotmail.com

8th Grade Parents: For students attending Claremore, they will be here this afternoon at 1:30pm to talk with our students about elective options. Parents are welcome, but it is not required. They are asking that at least a parent attend the tour and enrollment at 9:15am this Thursday, April 7th, at Claremore High School.

Justus-Tiawah Schools is holding enrollment in the JR High office 9-2 PM for any students new to the district.

Reminder: There will be NO TUTORING for the Elementary (K-3rd) on Thursday, March 31 or Thursday, April 7 due to parent-teacher conferences.

8th Grade Parents: You children are the leaders of our school and they represented themselves unbelievably today in OKC. They are a great group. We will be going to tour NE Tech on Friday morning. Please call the office if you would not like your child to attend. Have a great evening.

There will be NO TUTORING for the Elementary (K-3rd) on Thursday, May 31 or Thursday, May 7 due to paren-teacher conferences.

Running Club will be cancelled tomorrow 3-31-22. We will be back on Tuesday, April 5th at 7:15am. To join our remind app send a text to: 81010 with the message: @jtrunni

8th Grade Parents: Just a reminder that we will have an 8th Grade Parent Meeting tomorrow evening at 7pm in the north campus cafeteria to discuss graduation and the class trip. We would like to have at least one parent attend the meeting. Students are encouraged to attend as well. Have a good evening.

Report Cards went home yesterday for Elementary and South Campus. Jr. High Report Cards will be going home on Monday. Have a great weekend!